5 Best Bibles for New Believers
Reading the Bible can be a challenge for many. The language that it is written in can be difficult to understand, and can lead to feelings of confusion or discouragement for those coming to the Bible for the first time. Some Biblical scholars spend their lives dedicated to deciphering and interpreting the Bible for people. Studying the Bible should never feel like a chore, but due to the nature of the language, it can be difficult for new believers. There are a number of different resources that can help make reading the Bible easier.
For new believers, choosing a Bible can feel like a daunting task. There are a wide variety of versions and Bible translations that can make it hard to narrow down the right version for you. When choosing a Bible there are many considerations to make, especially as a new believer. To get started on your new journey, you want to choose a Bible that serves as a tool to grow your faith.
What to Look for in Bibles for New Believers
Type of Bible- There are several different types of Bible, each designed to better help you engage with your faith. If you are looking for breakdowns of important passages along with maps of the various locations mentioned, you may want to look for a Study Bible. If you plan to annotate and take study notes as you read, a journaling Bible may be the right choice for you. There are also many Bibles geared toward specific age groups, such as children and teens. These Bibles provide age-appropriate guidance and context to help kids grow in their understanding and appreciation of scripture. Think through how you plan to use your Bible and which of these additional features would be most helpful for you.
What You Want to Focus On- The focus of your Bible study is also important in helping you choose the right Bible. If you want to focus on one particular section of scripture, such as the Wisdom books or the Gospels, it might be helpful to get a Bible that includes just that section. Bibles like this are perfect for delving into a particular book of the Bible more deeply or for use during a Bible class with a specific focus.
Translation- There are many different translations of the Bible. For a new believer, we suggest a Bible that uses a simpler translation—one that puts God's Word into a more contemporary language. This can help you understand the text more easily.
Guides- Some Bibles come with guides that can provide you with additional resources for study engagement while reading through the text. This might take the form of reflection questions, introductions to common spiritual disciplines, or summaries and explanations written by notable pastors and theologians.
Functionality- If your Bible is something you want to take with you on the go, you may want to find one that is smaller and easier to carry around. Others may want the extras, such as a pen loop or case. Depending on what you want to do with your Bible, you are sure to find one that works for you.
Overall Design- As a new believer, you want to be excited to start delving into your Bible. The overall design should ideally be something that you will want to open and read. Just like the cover of a book, something that looks plain is less likely to spark your interest.
Top Picks for Bibles for New Believers
Alabaster: The Complete Collection
Alabaster believes that beauty matters in our deeper understanding of who God is. Because God created everything in the world, and we are shaped by what we see, visual identity is an important factor to consider when it comes to thinking about our relationship with God and the way design impacts our faith. Alabaster's collection is split into different books for easy portability when you're reading and allows new believers to digest each section of the Bible in an approachable manner. The collection is also exceptionally beautiful and looks like an elegant coffee table book or design magazine. This is a perfect set that will make reading Bible for new believers enjoyable; in fact, the design alone will incentivize you to pick it up time and again.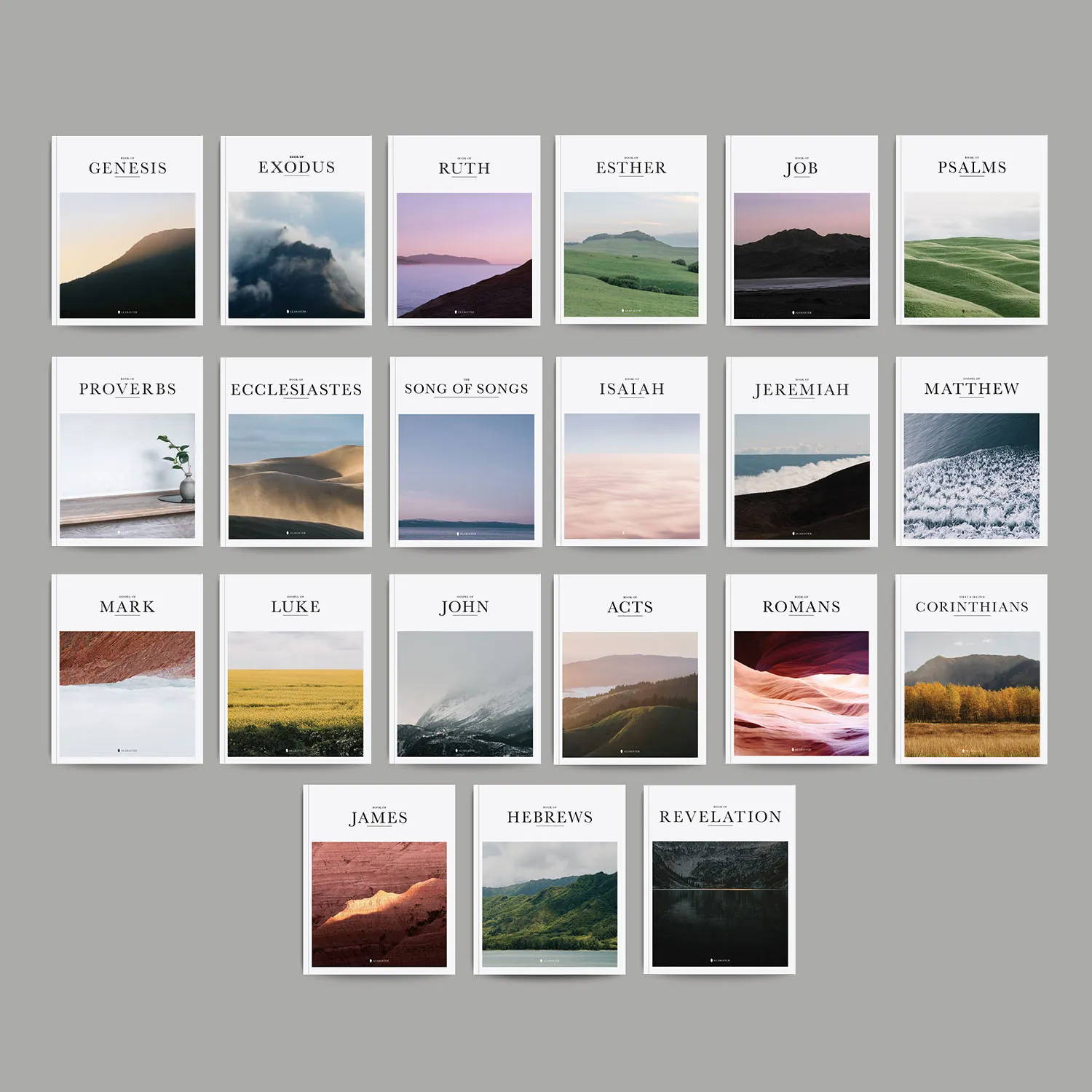 Pros:
Visual design and photos break up otherwise long blocks of text

Books are broken out into individual books to allow first time Bible readers to focus on the subject at hand

Books are

printed on quality paper using FSC-certified, environmentally friendly practices
Cons: 
Priced a bit higher than the cost of the average Bible

Alabaster Bibles are not pocket-sized
NLT New Believers Bible: First Steps for New Christians
This New Believers Bible written by Paster Greg Laurie uses the New Living Translation which makes the text easy to read. Not only is the language easier to understand, the New Believer's Bible also features a series of study notes. The Bible contains "cornerstones", which cover the basics of Christianity such as Heaven and Hell, angels, peace, Satan, and more. It also contains "First Steps", which serves as a guide to your first steps as a new Christian such as finding the right church or learning how to talk to God. The New Believer's Bible also features an "Off and Running" section which lets you apply what you have learned to different aspects of your life. Another added feature is the "Big Questions" section that addresses difficult issues and obstacles you may have as a new believer. This Bible is straight to the point and is everything you need to get started.
Pros:
NLT translation is easy to understand

Has many added features

Written by a well-established pastor
Cons: 
A simplified version of the text

Hardcover design can wear over time
Tyndale Life Application Study Bible 
The Tyndale Life Application Study Bible is a New International Version Bible that has added features to help guide you. The NIV text is an original translation of the Bible that balances the traditional language with contemporary English. One of the added features of the Life Application Study Bible are introductions to each book in the Bible. It also includes maps and charts that allow you to reference information quickly. This paperback copy is lightweight and can be taken with you everywhere. For those that are looking for a no-nonsense Bible that guides you on an in-depth study, this is the best Bible for new believers for you. As the name suggests, this Study Bible helps you apply the biblical teachings of God to your everyday life.  
Pros:
Paperback book is portable
Introductions guide you through each book
Cons: 
Design of book can wear

NIV may be hard for new believers
Christian Basics Bible NLT 
The Christian Basics Bible is another New Living Translation that simplifies the complicated text so that you can understand it. The Bible features individual book introductions, notes on Christian basics, as well as a visual overview of the Bible. If you dread reading pages of simple text, then this Bible is the one for you. The vibrant colors and charts are sure to keep you engaged in the reading. This Christian Basics Bible helps you navigate the confusing language of the text and helps you understand the basic truths of the Christian faith.
Pros:
New Living Translation is easy to understand for beginners

Visuals make reading more engaging

Many foundational notes
Cons: 
Translation may be overly simplified

The paper of the Bible is thin
Even for those who are not new believers, choosing a Bible can be a difficult task. With all the different versions, translations, and options out there it can definitely be overwhelming. While the most important aspect of the Bible is the content, there are additional tools and features to consider. First, understanding the content that makes up the Bible can help you choose the best one for you. The next step is to find a Bible that you will want to use. There are guides or extra tools to make reading the Bible an educational and entertaining experience. Hopefully, this Best Bibles for New Believers guide is able to get you started on your way to growing your faith!


What Is The Fruit of The Spirit?
"But the Holy Spirit produces this kind of fruit in our lives: love, joy, peace, patience, kindness, goodness, faithfulness, gentleness, and self-control. There is no law against these things!" — Galatians 5:22-23
Best Bible Studies for Women
To strengthen our faith in God, it is important to read and interpret scripture